An all encompassed guide to renovating your kitchen.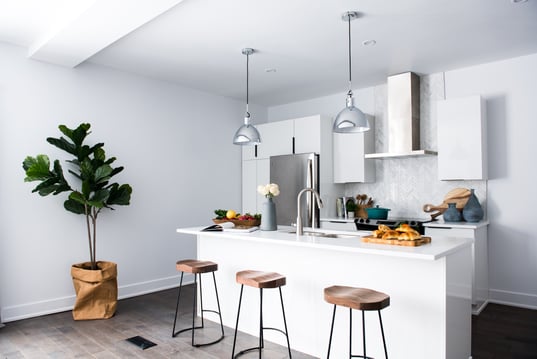 The Kitchen is one of the most important rooms in your home. It has to be both beautiful and functional, a place where you and your guests enjoy spending time and a place where you can efficiently prepare meals. Because of that, a kitchen renovation is especially exciting. It's an opportunity to add the space, storage, prep areas, seating, and features you've been missing.
To get from what you have to what you want, you need to take a lot of things into consideration. What do you love about your kitchen? What's it missing? When you're cooking, what are your biggest frustrations? What's your budget? Can you do this yourself or do you need to hire someone? Whatever you're hoping to achieve with your kitchen remodel, we're here for you. From planning and budgeting to fixtures and finishes, we want to make the process fun, not overwhelming. Before you get started, be sure to take a peek at our blog post Start Smart: Things to Know Before the Renovation or download our Kitchen Renovation Checklist for the all the information you'll need to renovate your kitchen.
Table of Contents
Make a Plan
Be honest about how you use your kitchen. HGTV has a fantastic worksheet, A Day in the Life of Your Kitchen, that can help you outline your lifestyle and how your kitchen fits in. Here are just a few of the things you should consider:
Set Your Budget
Research is your friend when it comes to budgeting. For example, if you learn about a must-have feature after renovations have started, a last-minute change to your plans can add a lot of money to your total bill. Work together with your contractor and take advantage of their expertise. As you solidify your plans, make sure you get a thorough cost breakdown so you know exactly what to expect—and where you can make cuts if needed.
Other money-saving tips:
Do It Yourself
If you're on a tight budget, DIY may be a great way to stretch your kitchen renovation fund. You can find tutorials for pretty much anything on YouTube! However, it's important to remember that a DIY mistake can lead to bigger expenses than if you would have just hired someone in the first place—and common kitchen remodeling mistakes are as simple as failing to test a sample before installing it or making an inaccurate measurement.
Keep these things in mind, too:
For additional inspiration, check out our DIY Pinterest board.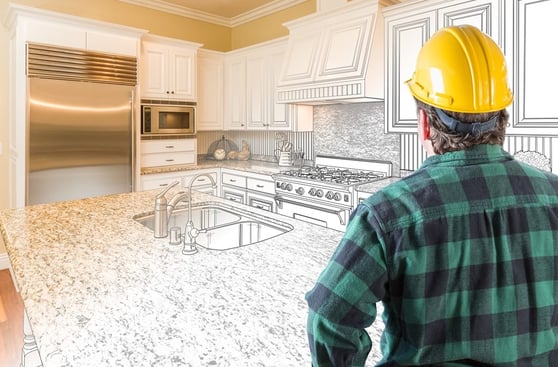 Hire A Professional
You will need to hire someone to design the kitchen and someone to build the kitchen. Make sure you understand whether or not your designer is paid or otherwise rewarded for recommending certain products or manufacturers. If so, the recommendations they make might not actually be the best recommendations for you, and you'll want to do additional research before making a decision.
HGTV outlines how to choose a remodeling contractor. Referrals, credentials, and references are all important; your contractor should be licensed and insured. You should feel comfortable working with the people you choose, as this will be an ongoing process and you will need to be in regular communication with them. Talk to several contractors before making a decision, and make sure you get the remodel plan and cost in writing.
Layout and Design
You might think about kitchen design in terms of colors and appliances, but the most important thing is the layout. After that's established, those colors, patterns, materials, and other details come into play.
Architectural Digest says the kitchen triangle is still the best way to design a kitchen to achieve the right traffic flow.
"Developed in the early twentieth century, the working triangle...is a theory that states a kitchen's three main work areas should form, you guessed it, a triangle. Specifically, the sink, the refrigerator, and the stove.... According to its tenets, each leg of the triangle formed should be between four and nine feet each, and the sum distance of the triangle should not be less than 13 or more than 26 feet."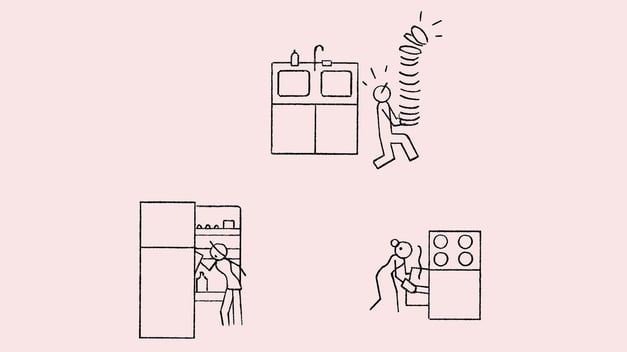 Here are a few more things to consider regarding layout and design:
Cabinets
A simple update to your cabinets can change the look and feel of your entire kitchen. Kitchen cabinet options are plentiful: colors, finishes, hardware, and more give you the opportunity to customize your look and optimize your space.
The many fine cabinetry brands available offer cabinets in a variety of materials, colors, and finishes. No matter your preference, you can find one to fit your style and budget. For inspiration, take a look at our featured brands, cabinetry Pinterest board or check out this Better Homes and Gardens slideshow featuring some beautiful cabinet trends.
Countertops
Today, you can achieve a luxe look without spending as much money, but appearance isn't the only consideration when choosing your kitchen countertops. Heat resistance, durability, exposure to water (and maybe a child's paints or markers!), and more will help you determine what you need based on your lifestyle. Be sure to check out the hottest countertop trends for more inspiration.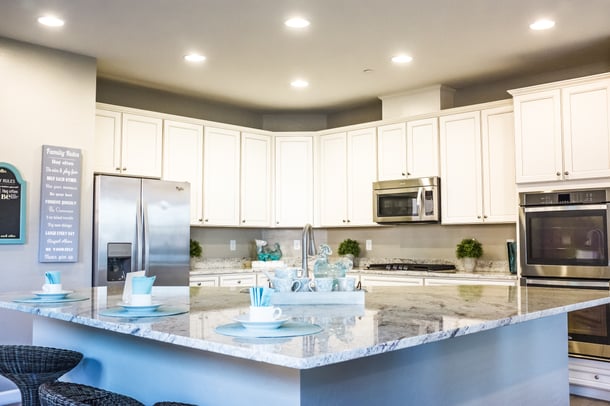 Natural Stone: Granite has long been a popular choice, but marble and soapstone are great, too. Stone is one of the more expensive countertop options, and some stones are more expensive than others. Since they are porous, they must be sealed (and resealed as time goes on) or they will stain. Generally, stone countertops are durable and classic—you will enjoy them for years to come.
Engineered Stone: These countertops look similar to natural stone and come with some additional benefits: they're stain-resistant, so you don't have to seal them.
Metal: Stainless steel, copper, or pewter are bold, beautiful choices. Durable and easy-to-clean, the only downfalls may be the cost or the fact that the softer metals may show scratches and dents.
Laminate: Laminate countertops have come a long way over the years, and you can now choose from lots of colors, some of which look like stone or steel. This is a budget-friendly remodeling solution, but they can be damaged by knives or extreme heat.
Ceramic Tile: Great for the DIY enthusiast! The grout requires careful cleaning, but tile is easy on the budget and can be heat- and scratch-resistant.
Wood: It gives a beautiful, classic look to your kitchen, but wood countertops require sealing and ongoing care.
Polished Concrete: Durable and versatile, concrete can be used to create counters of all shapes and sizes. Sealing is required to avoid stains


and damage.
Flooring
Lifestyle is another important consideration when choosing the flooring for your kitchen. Do you have kids running around and spilling things? Is there a lot of foot traffic? Do you do a lot of cooking and therefore cleaning?
Tile: The color and pattern options are nearly endless, and tile is both kid- and pet-friendly! Porcelain tiles are more water-resistant than ceramic, but both are durable and easy to clean (though the grout may need extra attention).
Wood: Though it can warp with prolonged exposure to water or humidity, and it may scratch easily, there's a certain richness and beauty to a hardwood floor that can't be matched.
Bamboo: It's less expensive and easier to maintain than wood, and it's eco-friendly! However, as with wood, moisture poses a risk.
Stone: From marble to slate, stone floors are naturally beautiful. They're also naturally cool, so they may not be the best idea in a cold climate unless you have underfloor heating. It is one of the more expensive flooring options.
Concrete: Durable and low-maintenance, it's a great choice for a contemporary kitchen.
Check out our flooring gallery for some inspiration!
Backsplash
Glass, ceramic, bamboo, cork—the backsplash is a great opportunity to add color or a striking pattern to your kitchen. Consider eco-friendly options such as cork or recycled glass and make sure to hang up a few tiles for a week or so to decide if you want to invest in more!
The backsplash is easy to change, too, so if you're looking to spruce up your kitchen or create a new look without a major overhaul, changing your backsplash may be a simple, inexpensive way to do it.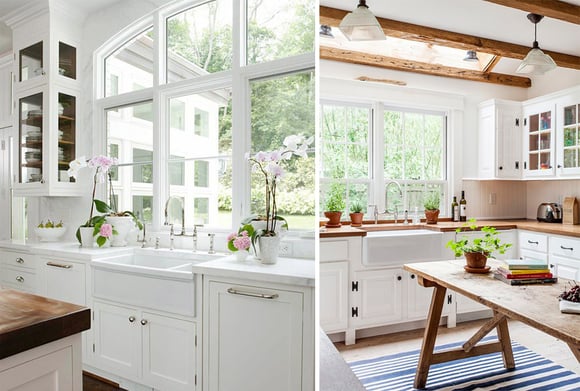 Natural Lighting
You can't beat vibrant natural light. An open floor plan allows the kitchen to take advantage of, perhaps, floor-to-ceiling windows in the living or dining room. If your kitchen is separated, there's not much room for windows, since the cabinets take up most of the wall space.
This is a great opportunity for a skylight, or to play up the one or two windows with unique treatments. If you have an empty wall in your kitchen or near the kitchen, it may be worth considering installing a larger window, an entire window wall, or even a bay window where you could create a seat and add a small table.
Check out our window gallery for some more inspiration.
If you have any questions about your kitchen remodel, please

Contact Mozzone's Kitchen Design Team

! We've been building possibilities for 70 years, and we would love to help you create your perfect kitchen.